DigitalOcean
Whether you're new or experienced to VPS hosting, DigitalOcean has one of the best web service hosting services out there. If you're looking for a cheap server for blogging, shared hosting should do, but if you're looking for more, DigitalOceans's VPS services are cheap,fast, and have great support.
Features
Droplets
From one account you can create more servers (droplets) that can be configured according to size, operating system, etc. The configuration made to each droplet determines the price. You can create and destroy these droplets anytime you like, so you can start all over again if you're just learning to use VPS.
Pay what you use/pay per hour
When you load your account with a number of credits, your droplet usage will determine where that credit will be billed. For example, if you wish to not use your VPS for period of time, you can disable your droplets and you won't be billed until you wish to enable them again.
Most hosting services do not offer this way of payment, as they charge you for a set period of time, in which your account stay active whether you use it or not.
Snapshot
You can create snapshot droplet you can use as the basis of new or recreated droplet, but it will cost you $0.02/month.
Uptime guaranteed
DigitalOcean takes pride in offering a whopping 99.9% uptime guarantee.
 Fast installation and One click setups
Installation goes smoothly and fast, having a complete server up and running in just a few minutes.If you don't want to be bothered with configuring droplets, there are some "one click" droplets that come already configured.
Private networking
You can network multiple virtual servers .
Vast knowledgebase and active community
As I mentioned, if you have no experience with VPS, DigitalOcean  helps you with their knowledge base which is full of descriptive guides and tutorials that will  help you through all the setups and installations. The community section also has a question forum for all your other inquiries regarding  VPSes.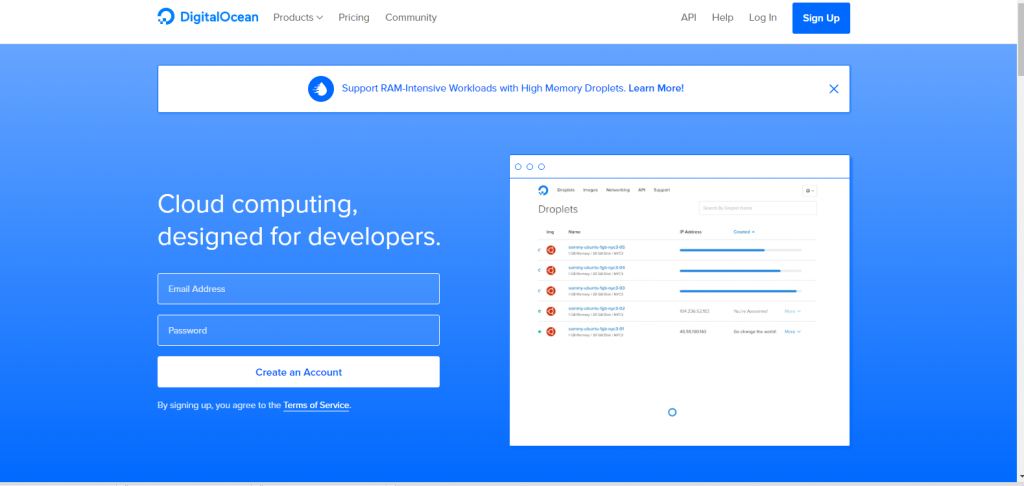 Pricing 
If you don't have money to burn, the cheapest droplet is enough for the basic user, with $5/month or $0.015/hour which has:
512mb RAM
1 core processor
20GB SSD disk space
1TB Bandwidth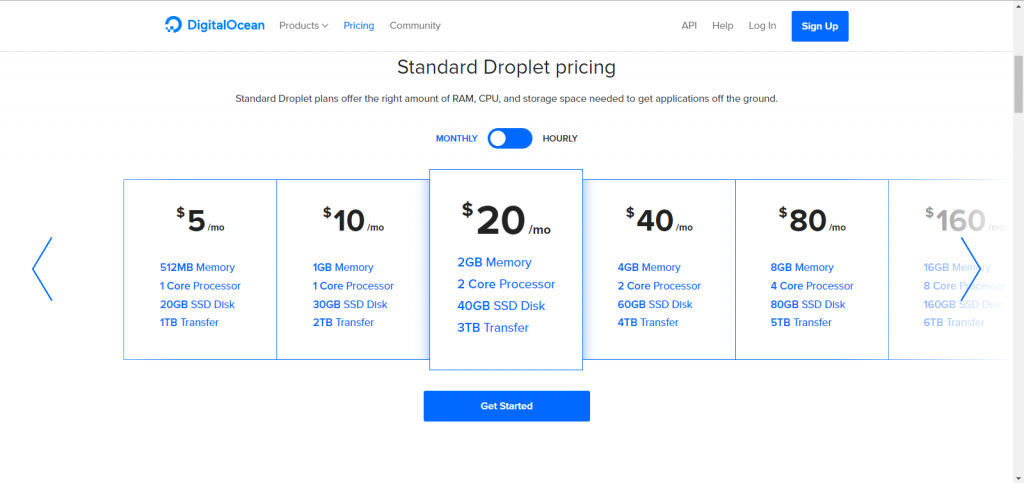 Each plan gets pricier but so do the numbers of RAMs, cores, disk space and bandwidth.
Cons
No basic hosting
DigitalOcean provides hosting mostly for professional and experienced developers, so apart from the tutorials, community and the configured droplets, you're pretty much on your own.
No cPanel
No cPanel is available, but their API is open source.
Conclusions
DigitalOcean is a great host for individual developers and large companies alike, offering many  great tools and services at a reasonable price, to create the websites you desire and further develop your own server experience.