DraculaServers     
When  you're looking for a VPS hosting provider that has more space,security and speed, you would naturally  expect that these qualities come at a higher cost, but that is not the case with  DraculaServers. This  new web hosting provider that offers both VPS and dedicated servers at cheap, affordable prices with quality features and a dedicated support team.
Features
Uptime all the time
DraculaServers take great pride in being able to keep it up 99.9% of the time.
Quick setup
Once your VPS is deployed it will only a matter of minutes for it to be up and running.
Compatibility with many Linux OS
Your server can support the installment of any of the following Linux OS – CentOS, Debian, Ubuntu, Fedora,ScientificLinux and OpenSuse.
Virtualizator
DraculaServers uses a powerful web based Control Panel that supports  OpenVZ, Xen PV, Xen HVM, XenServer, Linux KVM and LXC virtualization. This very advanced GUI can enables users to start,stop,restart and manage their VPS with ease.
Support
DraculaServers provides support via email, ticketing system and chat which are available 24/7. The support team is very quick to respond to any problem and do their best to solve their customer's queries or problems as fast as they can.
OpenVZ for VPS
OpenVZ is an extremely lightweight virtualization technology that outperforms full virtualization by a long shot. OpenVZ doesn't use much kernel memory because it runs containers using a shared kernel, while KVM has to run your own kernel so there's less memory for your apps.
For the same price, you get more out of OpenVZ than KVM because a KVM VPS does not have the same amount of memory available to an OpenVZ user. Some providers even charge more for this option but DraculaServers refrains itself from doing so.
Pricing
DraculaServers offers 4 plans for VPS from which you can choose.
The basic package is cheap and convenient(not that the other plans are overpriced, but this is THE cheapest) for small developers at $7.99 per month containing:
1CPU
768MB RAM
1024MB Burst
50GB HDD
100MB/S Network
1000GB Bandwidth
But it's the Standard package that is most appealing to customers since it cost just a little more than the Basic one, just $10.99 per month and has:
2CPU
1024MB RAM
5GB Burst
100GB HDD
100MB/S Network
1200GB Bandwidth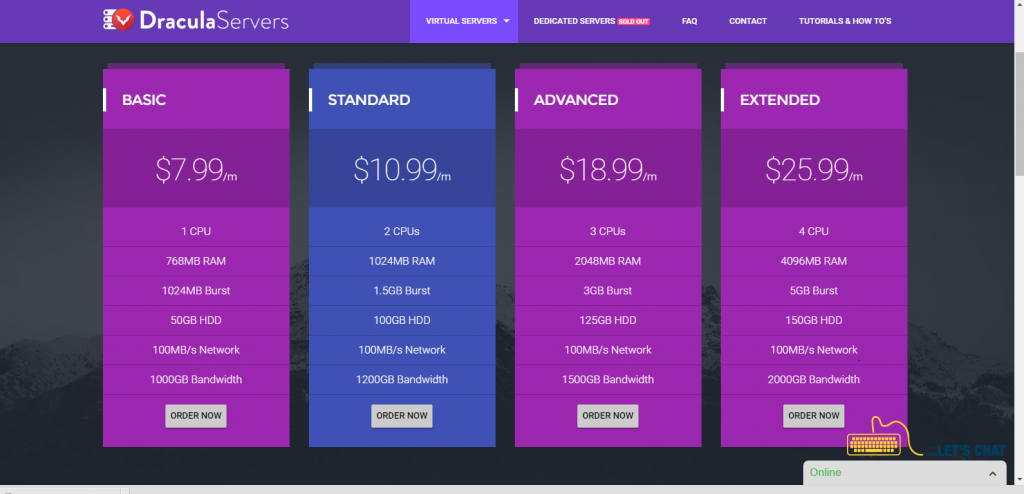 Ok, but what if I want to be all by myself on a dedicated server? A Dedicated server with KVM, servers located in USA, Canada, Europe, anti-DDoS protection but at an awesome price?
Fear not, for DraculaServers has 4 plans for you: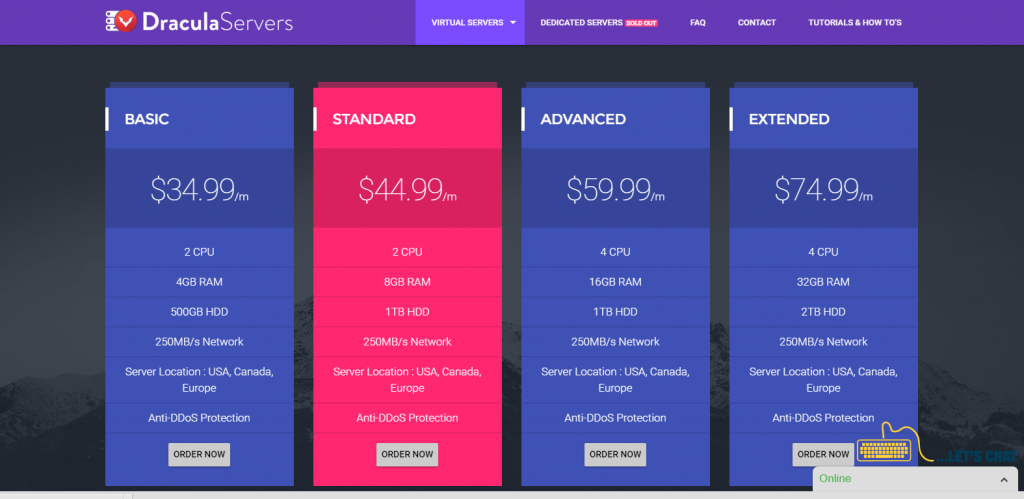 Conclusion
If one is seeking a VPS/Dedicated provider that has great speed, storage and memory but at a low and affordable price, Dracula Servers is the hosting provider to meet such requirements and much more. Remember, it is no easy task to start building websites and applications without the right VPS.